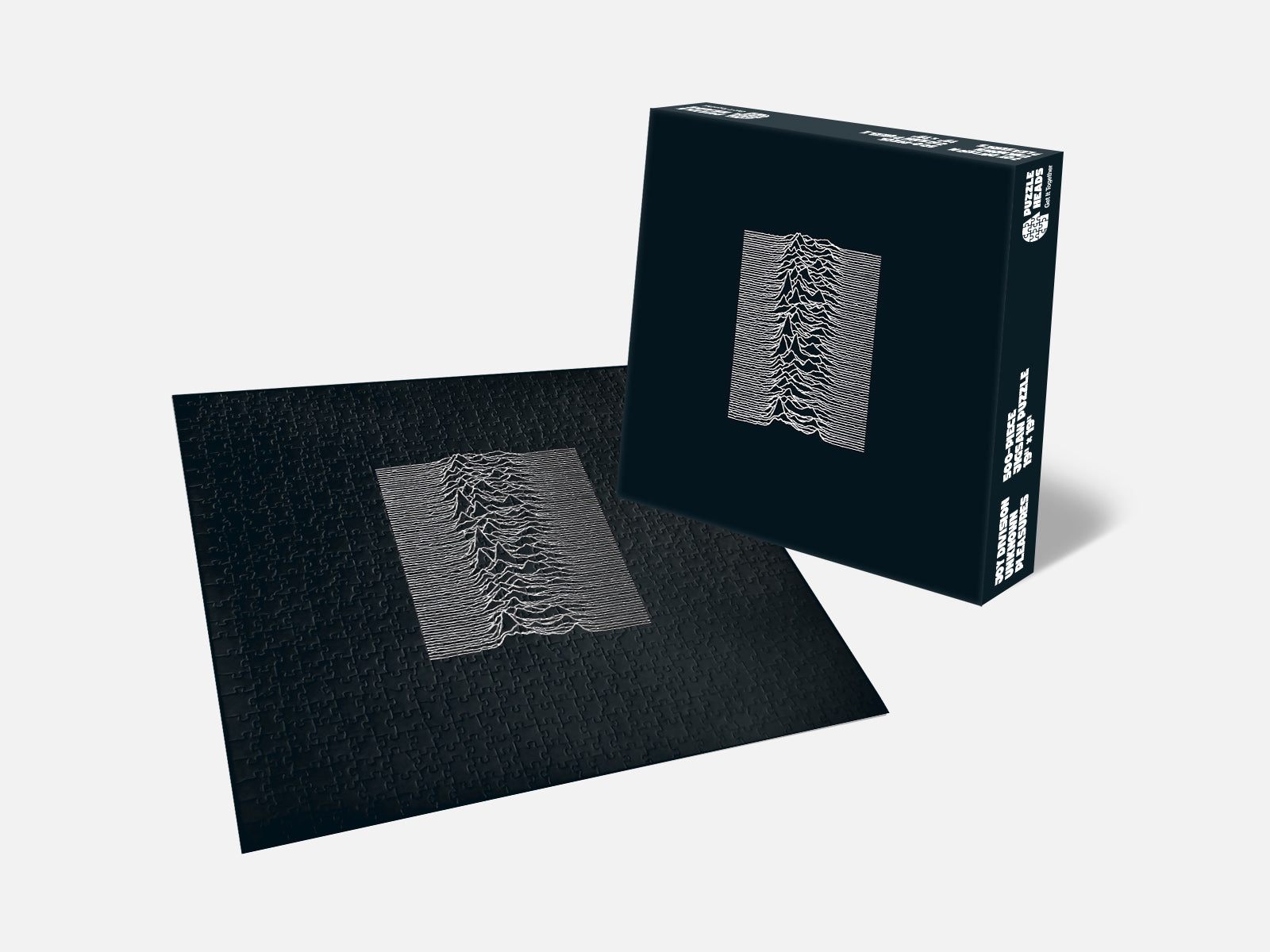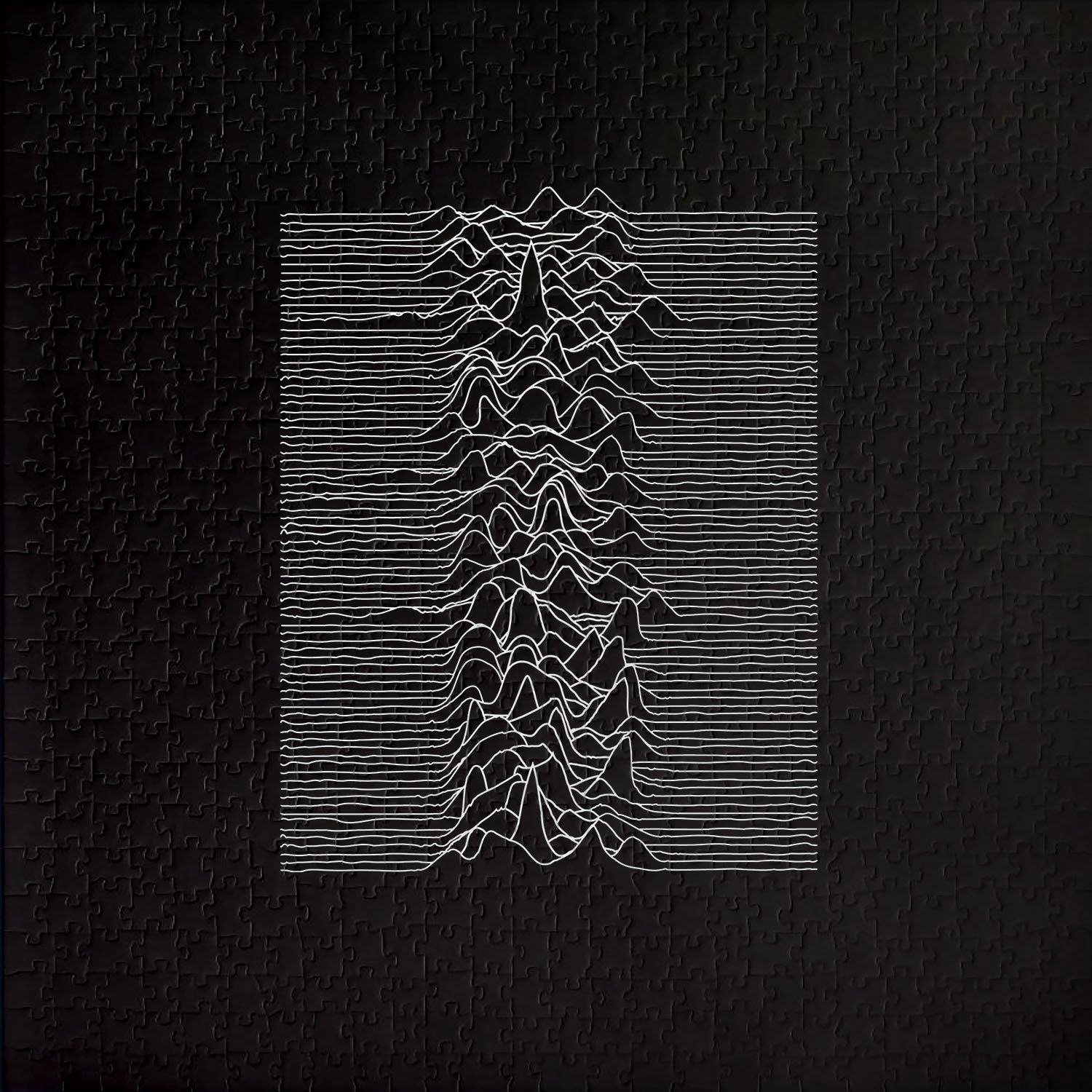 Joy Division - "Unknown Pleasures"
Description
This puzzle is not currently available.
Subscribe now and receive it when it becomes available as the puzzle-of-the-month.
Joy Division
"Unknown Pleasures"
Unknown Pleasures is the debut studio album by English rock band Joy Division, released on 15 June 1979 by Factory Records. The album was recorded and mixed over three successive weekends at Stockport's Strawberry Studios in April 1979, and was produced by Martin Hannett, who incorporated a number of unconventional production techniques into the group's sound. The cover artwork was designed by artist Peter Saville, using a data plot of signals from a radio pulsar. It is the only Joy Division album released during lead singer Ian Curtis's lifetime.
Puzzle Specs
- 500 piece puzzle
- Completed puzzle is 19" x 19"
- Art by Peter Saville
- Matte coated print on 100% recycled paper
- Made in the USA
Skill Level

Subscription Details
A new music puzzle ships directly to you every 2 months. Subscriptions automatically renew at the end of the selected term - unless noted as a "gift" or "non-renewing" subscription. Reminder emails are sent out when your subscription is close to renewing or expiring. Subscriptions cannot be cancelled until all orders on the subscription have been fulfilled. You can manage your subscription, check order schedule, update payment method, and more by visiting My Account and clicking Manage Subscriptions.
All subscriptions are pre-paid. All fees, including shipping costs (FREE shipping to the lower 48 United States), are collected at the time of subscription. Payment information will be securely stored, and used to process renewing subscriptions. You will be notified by email before a subscription is set to renew. You will be sent notification if your payment method is expiring or has expired, and you can securely update this info by visiting My Account and clicking Manage Subscriptions.
Skipping a specific puzzle on your subscription is allowed only one time for your selected subscription term. All skip requests must be made via email to subscriptions@puzzle-heads.com. Skip requests must be made prior to the order date shown in the Order Schedule portion of your account. You can find this info by visiting My Account and clicking Manage Subscriptions. Once the order date has passed, skips are not allowed.
Shipping
Free Shipping
We offer FREE shipping to the lower 48 United States on all puzzles. There are nominal shipping costs for subscribers in Alaska, Hawaii, Puerto Rico. Unfortunately we are currently not able to ship internationally. Any shipping costs on our subscriptions will be calculated and paid at checkout.
Order Tracking
You will be notified via email when your items ship, and you can track the package until it arrives safely at your doorstep. Happy puzzling!
Get In Touch
We're here to help. Do you have questions about shipping, your subscription, or all things puzzle-related? Don't hesitate to reach out. Contact Us.